The asos Christmas 2011 campaign featured a number of 'Tastemaker' events. Each week in the run up to Christmas a new style icon released an Xmas party playlist and their pick of a party fashion collection.
The brief was to integrate the Tastemaker event features into an interactive shopping experience. The design deliverables included creating user journey flows, wireframes and prototyping the user experience.
Deliverables
Learning Axure RP 7 video course.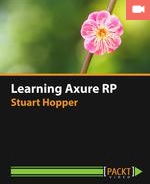 My video course on Axure RP 7 was finally published on the 30th January 2015 by Packt publishing, called Learning Axure RP 7.
About a year's work yielded a 4 hour and 17 minute epic. It's great value for money! Go buy it from the Packt site today..