Learning Axure RP 7 video course.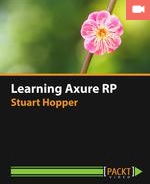 My video course on Axure RP 7 was finally published on the 30th January 2015 by Packt publishing, called Learning Axure RP 7.
About a year's work yielded a 4 hour and 17 minute epic. Read my blog post about it, or go buy it from the Packt site today!
Here you can find some tutorials for using Axure RP, the industry leading Rapid Prototyping application.
Axure RP Adaptive Widget Library launched & gets new home
22nd April 2015
It's launch time, and so I've created a new site on AxureResponsiveDesign.com for the project to live on. It was just outgrowing this, my personal site.... read more..
An intro to my Axure RP Adaptive Widget Library Project
23rd March 2015
I've finally put together some documentation for Axure's first Adaptive Widget Library. This video introduces the mobile-first adaptive views I'm using, and briefly talks about how the paging & menu works... read more..
Widget Libraries vs Masters vs Styles
30th September 2013
I'm big on reusuable elements, and using Axure, there are many ways of skinning the proverbial cat. Here I'm going to show how the big three ways of applying design across a project... read more..
Oh, and by the way..
..I am currently looking for freelance opportunities. Please drop me a message or call on 07508 000701.